WELCOME TO
NEWPORT
SHIPYARD
Full-Service Shipyard & Marina
N 41° 29.392' | W 71° 19.442' | VHF: Channel 9
401-846-6000
Newport Shipyard & Marina - Newport, RI
DOCKAGE & RESERVATIONS
Newport Shipyard has 3,500 linear feet of available dock space and can handle yachts up to 300'+ LOA. Located in the heart of downtown Newport and within walking distance to restaurants, shopping, and historic attractions, the Shipyard is in a perfect location for visiting yacht owners, captains and crew. Stay for the weekend or the whole season!
REFIT & REPAIR WORK
Newport Shipyard offers complete refit & repair services for motor vessels and sailing yachts. Equipped with three Marine Travelifts, including a 500 MT lift, we can haul out large yachts and provide many services including: paint, engine repair, carpentry, project management, electrical, machining, mast & rigging service work, and more.
BELLE'S CAFE & AMENITIES
Newport Shipyard offers many onsite amenities including: Belle's Café, Fitness Center, Ship Store & Chandlery, Courtesy Vehicles, Laundry, Golf Carts, and more. We have full-time project managers & coordinators onsite to help make your stay efficient and enjoyable.
Dock in the
HEART of Newport
Newport Shipyard, one of the most popular and recommended shipyards in the U.S., is a full-service marina and shipyard with over 3,500 linear feet of dock space that can accommodate yachts up to 300+ feet.
Belle's Café
Serving breakfast and lunch daily, Belle's Café is a favorite among the yachting crowd and locals. Come in for coffee, our famous Slammin' Shipyard Sandwich, Twin Lobster Rolls or one of our many daily specials and you will not be disappointed!
Haul & Launch
Operated by a team of experienced licensed marine hoisting engineers, Newport Shipyard is the only Marina/Shipyard in the heart of downtown Newport with large boat hauling capabilities. Newport Shipyard has four Travelifts onsite (500T, 200T, 100T and 70T) and, new for 2019, a 14T dry stack forklift.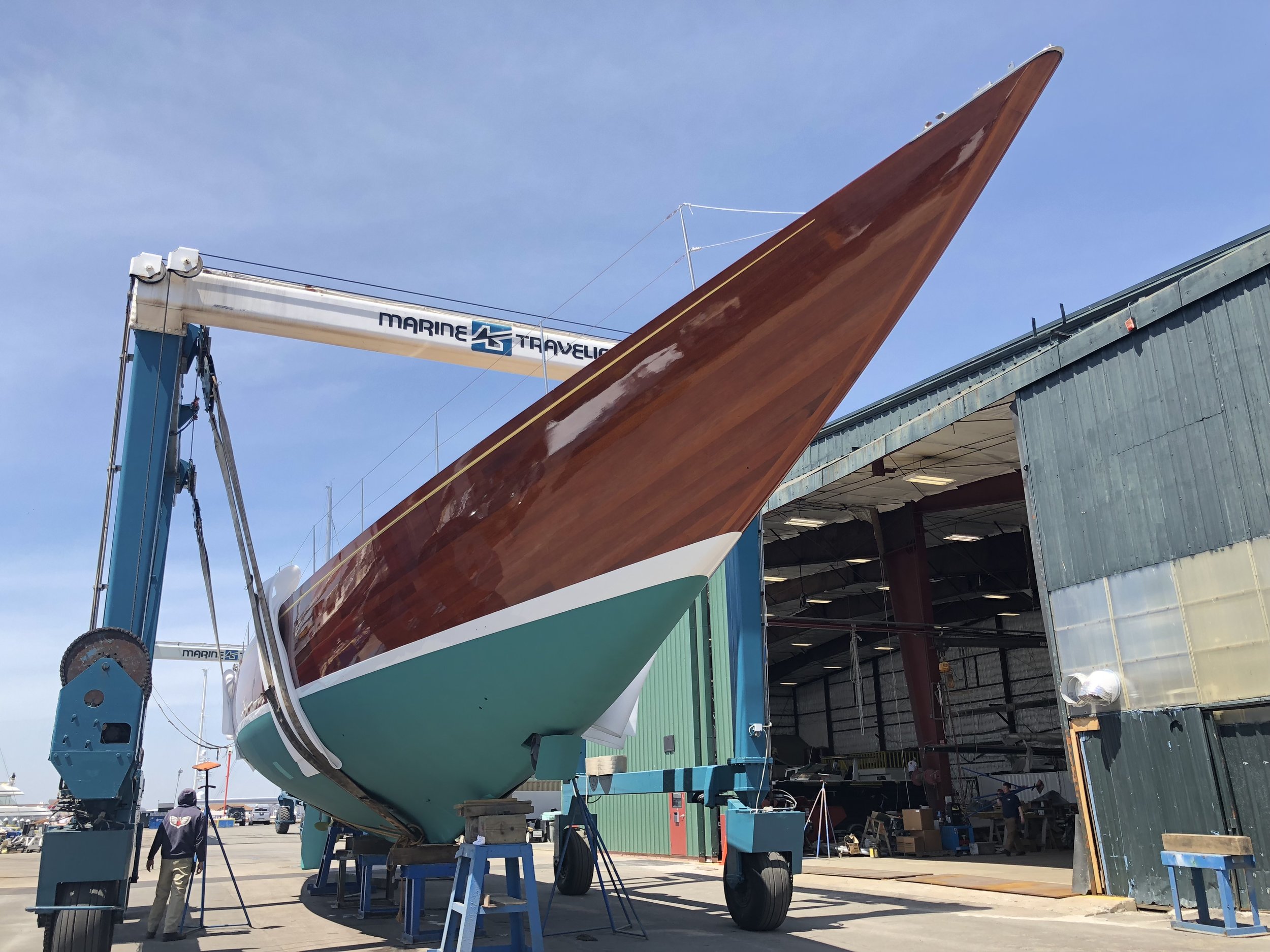 Amenities
Newport Shipyard has many onsite amenities including: Courtesy Vehicles, Fitness Center, Belle's Café, Ship Store, Chandlery, Laundry, Showers and more.
People Make the Difference.
The Newport Shipyard team is comprised of employees and subcontractors who are committed to making your experience here a positive one. From our riggers and electricians to our dock staff and restaurant team, delivering excellent customer service is our #1 priority.